Hard-To-Find and Obsolete Rollers
Have Hard-To-Find and Obsolete Rollers? Try recovering the rollers you have!
As technology advances, many of us still hold on to tried and true pieces of equipment that still get the job done. Unfortunately when they need maintenance and repair it becomes a strenuous task to find a shop capable of doing the work, as well as one willing to take on the odd small job. Many machines are made overseas and while parts may be available the cost to buy one or a few pieces and ship overseas can become expensive.
At J.J. Short Associates, Inc. we have been serving the hard-to-find and obsolete niche, as it relates to rubber parts, components and rubber covered rollers since 1977. Rubber has many, excellent qualities, but one bad feature is it deteriorates over time; it hates most cleaning agents and solvents and if stored improperly will crack, become brittle and break in pieces. So bring on your parts and rollers for:
Adding Machines
Automatic Teller Machines
Cash Registers
Check Sorting Rolls
Coin Wrapping Machines
Facsimile Machines
Feed Tires
Folding Machines
Mailing Equipment
Medical Field Monitors
Micrographic Machines

Photo Copying Machines
Photo Developers
Pitching Machines
Power Rolls
Rubber feet
Rubber Sleeves
Segmented Rollers
Solid Rollers
Video Equipment
Wood Planers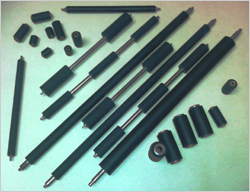 Typewriter Platens and Feed Rollers - We strip and recoat your typewriter platens and also recoat your old and cracked feed rollers, bail rollers and finger rolls for typewriters and other office equipment. Whether restoring a machine or servicing one still in use, we will make your platens and feed rollers functional once again. We service platens and feed, bail and finger rollers for machines from the early 1900s up through later electric models.
We are a small, US based custom manufacturer. When you call or email us you will be dealing with one of the owners, a Short Family member. In many cases it might be best for us to have you send us your part for evaluation and for us to get all the dimensions and specifics as to rubber type and hardness. We can quickly and safely get your part back to you if needed. All it will cost for an evaluation and a quote is the cost of shipping to and from our facility in Macedon, NY, just east of Rochester. If we cannot quote your job we will try to
recommend someone who can or suggest another source for your part.
At J.J. Short we have over 35 years of experience in the roller business. We have a knowledgeable staff and the rubber compounds, and design and process capabilities, to solve your roller problems and satisfy your requirements.
If itís made from rubber, contact us!